Immersive experience launched by Mercedes-Benz Vans
Written by: Fuel Card Services, Last updated:14th February 2022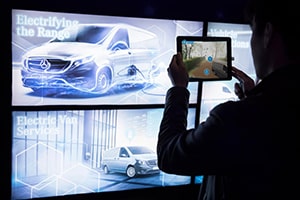 The use of augmented reality will help fleets searching for new vehicle options to enjoy an in-depth, immersive experience with Mercedes-Benz Vans.
As part of the manufacturer's adVANce strategy, the company is offering a multi-sensory experience to potential buyers.
An experience to remember
The brand's Keeping Businesses Moving experience utilises a custom-built 16-metre double-expanding articulated trailer and enables users to enjoy a 360-degree virtual reality tour.
It aims to highlight the vans of today, tomorrow and the distant future, with visitors able to move through a futuristic cityscape highlighting the company's vision for the years to come.
At the same time, they take a seat in the hydraulically-powered cab of a Sprinter van and see just what the manufacturer has to offer for today's customers.
Steve Bridge, managing director at Mercedes-Benz Vans UK, said: "We are firm believers in bringing our brand to the people, rather than expecting them to come to us, so this unique mobile trailer truly enables us to share our vision with a wide and varied audience."
The Keeping Businesses Moving experience will be touring the UK in the coming months. It has scheduled appearances at the Royal Highlands Show, the Great Yorkshire Show, Car Fest North and Car Fest South between now and the end of August.
Ellie Baker, brand manager at Fuel Card Services, comments: "Highlighting what the future holds for UK fleet operators is a great way to drive interest in Mercedes-Benz vans. It also serves as a timely reminder of the many fantastic options offered by the marque for today's buyers."
back