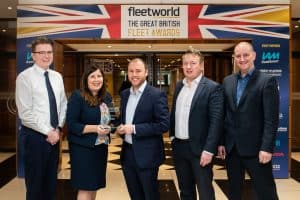 Honda has received industry recognition for its commitment to developing the latest vehicle innovations at this year's inaugural Great British Fleet event.
The manufacturer was named winner of the 2019 Fleet Technology Award at a gala awards ceremony held at London's Hotel Novotel on January 24th.
Honda was recognised as continuing a long tradition of focusing on high-end technology to boost the appeal of its vehicles, both among the driving public and business users.
Standout technologies that buyers want
Fleet engagement manager at Honda Jacqueline Rowe commented: "We are passionate that for a Honda to be a Honda, it must be different to every other fleet vehicle on the road and this award demonstrates that this is very much the case.
"To be recognised by our peers for our commitment to technology and innovation is a real honour."
The manufacturer's Honda SENSING and Honda CONNECT systems were highlighted in particular as offering advanced safety and connectivity packages to help separate Honda from its rivals.
Fleet-specific services, including Honda's new interactive whole lifecycle costs calculator, were also hailed as a deciding factor in this year's judging.
Ellie Baker, brand manager at Fuel Card Services, comments: "Honda has picked up a well-deserved award for the company's continuing commitment to delivering cutting-edge vehicles that incorporate the very latest technologies."
At FCS Europe, our people are the heart of our business and we are constantly striving for excellence. We are always looking for new people to join our ever-expanding team, from a new office in Halifax to a new office in a new country: Germany.
Join us today and fuel your career with FCS Europe.
View our current vacancies at www.career4you.co.uk
Posted on 5th February 2019
< Back to Latest News