Highways England uses robot to reduce roadworks
Written by: Simon Pavey, Last updated:14th February 2022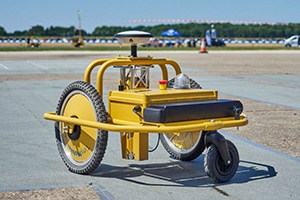 Highways England has devised an ingenious and futuristic method of reducing roadworks: using a robot to do some of its jobs.
The organisation revealed it has been testing an autonomous device called the WJ Robotic PreMarker to provide support in painting new or resurfaced roads across the country.
Marking out lines to reduce human involvement
Equipped with state-of-the-art positioning technology, the device can mark out where white lines need to be painted, saving human workers a significant amount of time.
Indeed, Highways England says the WJ Robotic PreMarker was able to mark eight miles of the M6 in Staffordshire in just four hours, a task that would have taken two engineers more than a week.
Other successful trials have taken place in Warwickshire, Berkshire, Leicestershire and Manchester, with the robot now set to work on the £1.5 billion A14 Cambridge-to-Huntingdon improvement.
Not only could the device save hundreds of hours of workers' time, but it could also offer other benefits in terms of safety.
For instance, 250 motorists a month illegally drive into roadworks, which can put lives in danger. If there are fewer human beings and more robots there, it is likely to significantly reduce the risk of loss of life.
There is also the potential to lessen the likelihood of back injuries that occur when workers repeatedly bend down to pre-mark roads by hand if robots are doing it for them.
Julian Lamb, a construction director on one of the roads where the WJ Robotic PreMarker has been used, said: "With safety our top priority, the time savings the robot can provide, coupled with removing our operatives from a potentially hazardous situation, make it a great solution."
Highways England has also revealed it is completing a pilot project involving a self-driving dump truck to transport excavated soil to fill large areas.
Jenny Smith, general manager for Tele-Gence, commented: "This is the type of innovation that could really make a difference to the everyday lives of drivers. It might sound like something out of Star Wars, but here's hoping we could be used to robots on our roads in the not-too-distant future."
Your business can benefit from affordable telematics with no hidden start-up fees or long-term commitments. Find out how at www.tele-gence.com
back