Our business is involved in the collection of waste products from commercial and domestic clients which are recycled or sent to landfill by third party contractors with much of the work in and around London and the South East.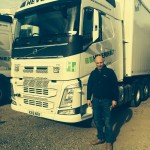 Following our successful gold accreditation last year and building on our recent silver re-approval the business has gone from strength to strength. With turnover increasing the last 12 months has seen us take  delivery of 20 new Volvo vehicle units (Euro 6) and trailers with 8 Mercedes and Scania units on order – all our vehicles are built to FORS specification.
"It is essential that our day to day work continues to reflect the high standards expected by FORS"
Quality in our organisation is considered paramount and since our Gold accreditation last year we have been successfully re-audited for ISO standards 9001, 14001 and 18001. I believe FORS has helped to underpin these achievements and as a Gold operator it has allowed us to bid for tenders with a high expectation of success which combined with the prestige it holds in our industry holds us in good stead for the future.
As an operator whose name is on the Operator Licence the useful communications received regularly from FORS help me and my team to plan daily and weekly workloads whilst also keeping up to date with local and national issues affecting our industry. My attendance at CPC refresher training last year has complemented my current knowledge and understanding and with the increase in authorised vehicles to 60 (although we currently operate less than 50) I have added a second named Transport Manager to our Operator Licence. I also recently attended a Transport Manager seminar delivered by DVSA which has also served to consolidate my overall knowledge and obligations.
"FORS has been an integral part of the business as we have expanded and grown over recent years"
In summary we strongly believe in the benefits that the FORS Scheme has brought to our organisation. It provides us with direction by ensuring the high standards we aspire to are underpinned by the Scheme and the quotes I used in last year's case study, repeated here, have never felt so relevant.
Our journey since I set up with one lorry over 20 years ago has over recent times seen a rapid expansion, particularly since 2013 when we joined the FORS Scheme which I believe has in no small way contributed to this success. Going forward we look forward to continuing to be involved and taking full advantage of the benefits and support that is available.
Rachel Pearson is our FORS specialist at Fuel Card Services – for more details on what we can offer FORS members – please click here.
Posted on 22nd July 2016
< Back to Latest News