Largest ever attendance at FORS Members' Conference 2019
Written by: Simon Pavey, Last updated:11th August 2020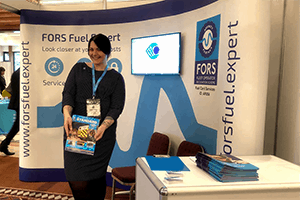 This year's annual FORS Members' Conference was the biggest ever recorded, with 470 members in attendance and Fuel Card Services were on hand to speak to everyone.
There were some really interesting topics covered by speakers on the day. It was especially great to see Natalie Geraghty from Kier Highways talking about mental health, as this remains a hot topic within the industry at present.
Meeting plenty of new faces
Meanwhile, FORS' 'Safer, Smarter & Greener' tagline has helped to push boundaries this year, touching on diverse topics such as mental health and recognising how vital it is to acknowledge this is a big issue within the transport & logistics sector and, more importantly, the policies and procedures that can be put in place to help tackle this problem.
On a lighter note; it was fantastic to see a host of regular faces, as well as some new ones, with customers coming to have a chat about FORS Fuel Expert and how it is working well for their business. Plus new members interested to see what member benefits are available to them.
FORS are aware of how much work is involved in being part of the scheme and have been very forthcoming with their affinity partner benefits, offering the FORS FMS, FORS Driver Licence Checking & FORS Vehicle Graphics service to provide discounts and assistance with the accreditation.
FORS Fuel Expert finished that fantastic line-up as of February this year, when the product was launched.
Members can see how invested we are in assisting them in any way we can along their FORS journey. Our additional services include MileageCount, Tele-Gence vehicle tracking, and discounts on servicing, MOTs and parts with the MyServiceExpert platform, all while saving them money on their fuel bills at the same time.
What's next? Watch out for the new walk-round app called 'MyDriveSafe' coming soon, which will be free of charge for FORS Fuel Expert customers!
Ellie Baker, brand manager at Fuel Card Services, comments: "It was great to meet the hundreds of FORS members at this year's annual conference, helping to spread the word of the many benefits they can receive from working with us."
back