Drivers support plans to introduce breathalysers in all vehicles
Written by: Simon Pavey, Last updated:2nd September 2021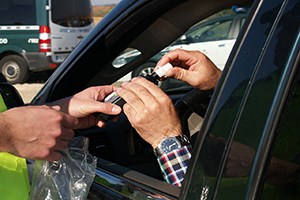 Motorists across the UK would welcome the introduction of in-car breathalysers as standard in new vehicles.
This is the sentiment seen in new research published by independent car retailer Motorpoint.
Automatic systems to stop drink-driving
Of the 1,025 people who took part in the study, 70 per cent of respondents agreed with upcoming EU proposals to install breathalysers in new cars from 2022.
Although exact details of how the new so-called 'alco-clock' system would work in practice are yet to be confirmed, it is believed that drivers will be required to provide a clean breath sample every time they wish to start the engine.
Any reading of alcohol from the driver's breath would see the engine automatically shut off, with the driver not able to start the car until their breath registers clear.
Overall, the EU predicts the introduction of this new technology could help to save upwards of 25,000 lives each year.
Mark Carpenter, chief executive officer of Motorpoint, commented: "The results of the Motorpoint poll clearly show the strength of feeling among the vast majority of UK motorists against drink-driving and we welcome the introduction of any technology that will help to eradicate this problem in the future."
Clamping down for Christmas
Drivers across the country should remember that Christmas is a time when drink-driving in the UK is taken very seriously, with a ramping up of enforcement by police forces to catch individuals above the legal alcohol limit.
Indeed, the latest figures from the Department for Transport show the number of drink-drivers arrested in 2017 was at its highest level since 2009.
In response, police forces are taking action over the festive period to clamp down on this type of offence. Coming into effect from December 18th to January 1st, police officers will be out in force to carry out random breathalyser tests on motorists across the length and breadth of the country.
The initiative is being administered by the National Police Chiefs' Council (NPCC) and will focus not only on offences of being above the legal alcohol limit, but on drug-driving as well.
Chief Constable Anthony Bangham, NPCC lead for roads policing, said: "Drink or drug driving is completely unacceptable at any time and catching motorists who are prepared to take such a deplorable risk is a priority for every police force in the UK.
"The winter drink and drug driving operation will result in many motorists being arrested and placed before the courts for these offences. My advice is the same as always; do not drink or drug drive, your actions could kill."
Last year, more than 72,000 breathalyser tests were administered as part of the annual December campaign, and a similar figure is expected in 2019.
Ellie Baker, brand manager at Fuel Card Services, comments: "Drinking and driving is a serious problem that too many people still fail to take seriously. The message to motorists is simple, if you drink any amount of alcohol, then you're not fit to get behind the wheel of a vehicle."
How can Fuel Card Services help?
Of course, we can't stop drivers from drink driving. However, we can offer you the solution to monitoring your driver's behaviours.
Are they speeding, or braking and turning aggressively or erratically? These are all signs that your drivers might be under the influence of drugs or alcohol. With Tele-gence installed in your vehicles, you'll be given reports on driver behaviour, as well as plenty of other benefits.
Get in touch today and see what we could do for your fleet.
back