Bentley named top automotive employer for school leavers
Written by: Fuel Card Services, Last updated:14th February 2022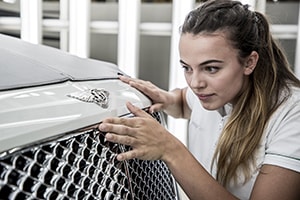 Bentley has been named the UK's number one employer in the automotive industry for school leavers.
The award was organised by careers guidance company AllAboutSchoolLeavers and voted for solely by UK apprentices.
Developing the next generation of automotive talent
Fending off stiff competition from a range of other manufacturers, Bentley was praised for its commitment to providing a high level of training and offering a range of recognised qualifications.
Dr Astrid Fontaine, member of the board for people, digitalisation and IT at Bentley, said: "To once again be named the Top Automotive Employer for School Leavers in the UK is an achievement we are very proud of and underlines our continued commitment to future talent.
"This commitment spans decades with programmes running for more than 40 years, each offering a solid foundation for people to build the relevant skills and knowledge that will enable them to grow through their careers."
The company continues to take on talented young people and will see a further 49 apprentices join the firm's apprenticeship programme this year. This will add to the 200 apprentices currently serving with the marque.
Jenny Smith, general manager for Tele-Gence, commented: "Supporting more young people to enter the dynamic world of automotive development is something to be applauded and Bentley continue to set the bar high in this regard."
Your business can benefit from affordable telematics with no hidden start-up fees or long-term commitments. Find out how at www.tele-gence.com
back