40 years of innovation highlighted by SMMT
Written by: Fuel Card Services, Last updated:11th August 2020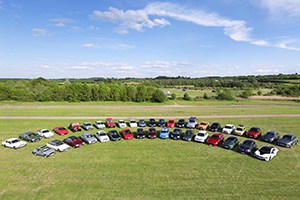 The Society of Motor Manufacturers and Traders (SMMT) has taken a look back at 40 years of automotive innovation, as the body celebrates its 40th annual Test Day.
A special display of cars spanning the last five decades was seen at the famous Millbrook Proving Ground in Bedfordshire this week.
Innovative improvements through the decades
Highlighting the considerable technological advances that have been made since the event first took place in 1979, attendees were able to view up close examples of the changing state of automotive technology down the years.
The display showcased such milestones as the first use of airbags, GPS satnav, reversing cameras, ABS, ESC, hybrid powertrains and Advanced Driver Assistance Systems.
SMMT chief executive Mike Hawes commented: "With such a diverse market, coupled with attractive finance options and competitive prices, there has never been a better time to buy a new car.
"The future is even more exciting and, while George Jetson's flying car might still be some way off, the next 40 years will see a seismic shift in automotive innovation."
SMMT also highlighted the changing face of the automotive sector over the last four decades, including growth in the new car market from 1.7 million new car sales in 1979 to more than 2.3 million today.
Jenny Smith, general manager for Tele-Gence, commented: "It's great to take a walk down memory lane and to see just how far we've come in terms of technological innovation."
Your business can benefit from affordable telematics with no hidden start-up fees or long-term commitments. Find out how at www.tele-gence.com
back