Shell One Fuel Card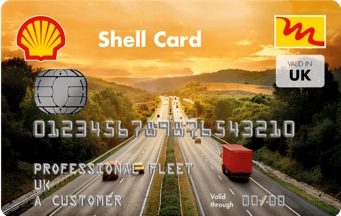 Shell One Fuel Card – fixed weekly diesel and petrol fuel card with access to nearly 50% of UK forecourts. And, you'll get up to 10p per litre saving on diesel at motorway sites.
If you want to know where you are on refuelling costs, this is the card for you. The price is fixed weekly and there are no regional differences – no matter where you are – and this includes FuelSave Diesel which improves MPG. Also, there are no hidden fees or surcharges to worry about. Controlling our fuel costs couldn't be easier.
Benefits of a Shell One fuel card
Service
Access to over 3,800 sites
Shell, Esso, Texaco, Gulf, Morrisons, Gleaner, and Circle K. 66 motorway sites
Diesel drawn at Esso sites subject to surcharge
Free fuel
management reporting
Detailed and flexible fuel analysis reports available online 24 hours a day
Toll
payment
Shell fuel card now accepted on M6 toll*
*with small surcharge
Collect loyalty points
Shell Go+ at Shell
Nectar at Esso
More at Morrisons
Savings
Competitive
pricing
Up to 10p per litre* saving on diesel
*At motorway sites only
Improve MPG with Shell FuelSave Diesel
Available at all Shell sites at no additional cost
Fixed weekly diesel & petrol price
No regional price differences, no matter where you refuel
Interest free credit and simple payment terms
No surcharges nor hidden fees across the network
Security
No unauthorised
purchases
Fuel card use is restricted to
fuel and lubes.
PIN
protected
At Shell sites only. PINs can be changed at any time
Quality
fuels
Premium fuel quality, for the best performance and efficiency
Why choose a Shell One fuel card?
As far as fuel card pricing goes, it's incredibly easy to understand why the Shell One fuel card is a popular choice for UK fleets. This card grants you access to fixed fuel prices across a range of market leading brands, including Texaco, Esso and Shell.
What's more, this applies both to diesel and unleaded, and you can refill at half of UK filling stations. With The One fuel card, you can enjoy pay as you go fuel pricing, no hidden fees, and simple payment terms.
For more information, read our insights on where you can use a Shell fuel card – or browse our full range of Shell Fuel Cards. Plus, learn all about Shell Rewards.
Save up to 10p per litre on fuel
Find the best fuel card for your business and start saving.