Volvo and Uber reveal first self-driving vehicle
Written by: Fuel Card Services, Last updated:11th August 2020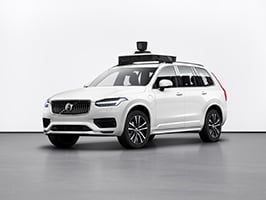 A joint venture between Volvo Cars and Uber is beginning to bear fruit, with the partners unveiling their first vehicle capable of fully autonomous self-driving.
The collaboration has now seen the development of a new Volvo XC90 SUV with an in-built self-driving system.
A step into the future
It is the manufacturer's first production car to undergo the self-driving treatment and marks a step forward in the partners' plans to roll out this technology more widely in future.
"We believe autonomous-drive technology will allow us to further improve safety, the foundation of our company," commented Hakan Samuelsson, president and chief executive of Volvo Cars. "By the middle of the next decade, we expect one-third of all the cars we sell to be fully autonomous."
The model features the latest self-driving sensors and controls, while there are numerous backup systems to ensure that, should primary systems fail, occupants of the vehicle will not be placed in danger.
The project has been in the pipeline since 2016 and the partners hope to now expand the use of the technology into the full Volvo model range by the early 2020s.
It heralds a new era in driving, with Eric Meyhofer, CEO of Uber Advanced Technologies Group, arguing the close cooperation between Volvo and Uber is integral to "effectively building a safe, scalable, self-driving fleet".
Ellie Baker, brand manager at Fuel Card Services, comments: "Self-driving vehicles may well be the future of automotive. It's therefore a landmark moment for both Volvo and the wider market in general to see the company's first production vehicle capable of autonomous motoring now ready to roll out."
back