Telematics 'boost safety and efficiency' for fleets
Written by: Simon Pavey, Last updated:14th February 2022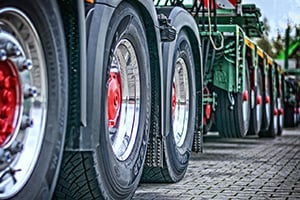 Safety and security should always be a top priority for fleet operators, while enhancing the efficiency of your vehicles and drivers can only help to improve your bottom line.
As a result, it's important for organisations operating any type of fleet to have full visibility into how their vehicles and trailers are being managed, stored and secured. This is where telematics could prove to be a crucial step forward for many businesses.
Security and peace of mind for fleet managers
Often, fleet operators will have vehicles out on the roads for a prolonged period, perhaps for days or weeks at a time. As a result, they can quickly become a target for criminals if they are not parked in highly-secure locations.
Unfortunately, vehicle theft remains a lucrative trade for criminals up and down the country, with figures from Verizon Connect showing the typical UK business has at least one vehicle stolen each year, with a resulting cost on average of £16,253.
Verizon Connect spokesperson Derek Bryan commented: "For many businesses across the UK, vehicles and the equipment inside are their livelihood – theft represents a huge cost. Fleet and business managers need to be extra vigilant."
The ability to easily track the location and status of any vehicle within your fleet can therefore provide crucial in ensuring tighter security of loads, staff and vehicles themselves, and this is where telematics can play a crucial role.
Telematics devices can even be calibrated to immobilise a vehicle should it be targeted by criminals. In this way, people and loads can be more secure; it can also act as a significant deterrent if thieves know they won't be going far and are more likely to be caught.
Improved efficiency through vehicle tracking
Knowing precisely where your vehicles are located at all times can be a great benefit that allows fleet operators to maximise the efficiency of deliveries and always be up to date with where their vehicles are at.
Whether it's informing customers about the status of their goods and providing updated arrival times, through to tracking your vehicles to ensure members of staff are taking the most efficient route when faced with possible traffic and delays, telematics devices can be crucial in saving time and expense, both for the business and drivers themselves.
Built-in telematics can also help to monitor things like fuel consumption and driver behaviour, meaning there is always data available to help to provide best practice training to staff in terms of making their journeys as efficient as possible.
This, in turn, can lead to lower costs and safer journeys all around, making it a win-win in our eyes.
Jenny Smith, general manager for Tele-Gence, commented: "As we've discussed, in-vehicle telematics can be a powerful tool for fleet managers to both boost efficiency and the safety/security of their vehicles. Have you considered the use of this technology for your vehicles?"
Your business can benefit from affordable telematics with no hidden start-up fees or long-term commitments. Find out how at www.tele-gence.com
back