What is MOT – an essential guide
Written by: Simon Pavey, Last updated:13th February 2023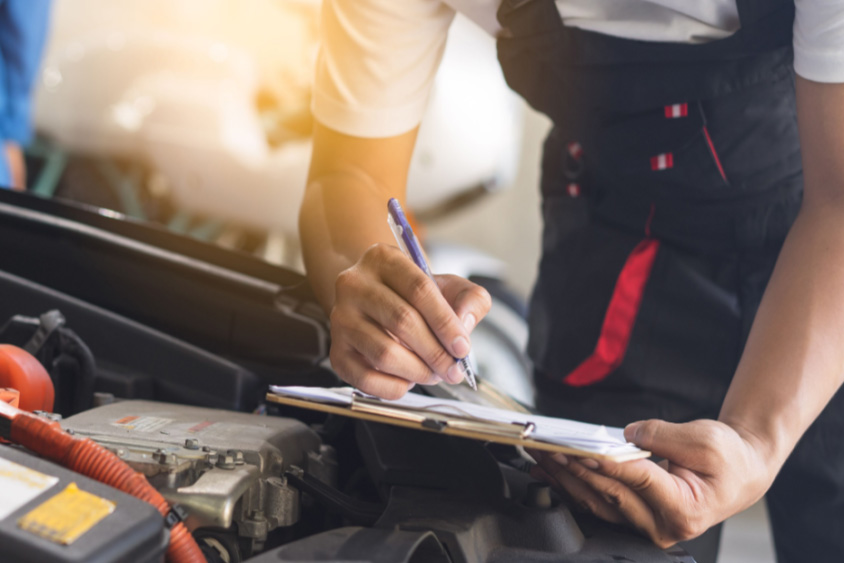 All vehicle owners and fleet managers are familiar with MOT testing. MOT tests themselves are one of the UK's most essential tools to encourage road safety and minimise or avoid accidents that are caused by vehicle faults.
However, as our road laws evolve, the vehicles operating on them diversify, and the role of electrification increases, it's important that fleet operators are able to stay up to date with the latest MOT guidance from the government and maintain an awareness of what a test comprises and when to get one.
That's why our article will cover:
What is an MOT test?
An MOT test is an annual car inspection in which various parts of a vehicle are assessed to ensure that the vehicle as a whole is considered road safe (legally speaking), and that it complies with environmental standards.
The MOT has been around since 1960 and has seen many changes in its 62-year life span. Originally only required for cars of ten years and older, the MOT was brought in alongside the Motor Vehicles (Tests) Regulations 1960. In 1967, the testing age was reduced to cars of three years and older. For ambulances, taxis, and vehicles with more than eight passenger seats, the testable age is one year due to a change brought in in 1983.
What is checked on an MOT?
Dozens of tests are carried out during an MOT, most of which are focused on the functionality of parts such as the windscreen wipers, brakes, and exhaust. The MOT test does not test the health of your engine, clutch, or gear box. Key elements tested include:
Lighting and Signalling Equipment
Steering
Suspension
Brakes
Tyres and Wheels
Seat Belts
Body Structure
Exhaust and Fuel Emissions
Drivers Road Views
Why do MOT tests include an exhaust emission test?
The exhaust emission test, introduced to the MOT in 1991, ensures that a vehicles engine is operating efficiently and that the emissions from the car are within legal requirements for environmental protection. It is not a direct check of a vehicle's engine, but if your car fails its MOT on the basis of the exhaust emission test then you might need to have your vehicle serviced and your engine checked.
Why is an MOT important?
In short, an MOT ensures that your vehicle is safe to drive and doesn't pose a threat to you, others, or the environment. An MOT may not check for issues with the engine, but ensuring that your vehicles steering, for example, is in full working condition and good health, will help to prevent malfunctioning that could lead to loss of control and ultimately an accident.
Driving without an MOT
While the wider motivation for the MOT test is to minimise risk on the roads, on an individual level there is a legal responsibility to ensure your car has its MOT. Driving without an MOT certificate leaves you liable to a £1,000 fine, and if you are caught driving a vehicle deemed 'dangerous' in an MOT test then you could face a fine of up to £2,500.
Not only could you receive this sizeable fine, but you could also get three points on your driving license for every fault you drive with. The consequences of points adding up on your license could be as severe as multiple years ban on your license – a major issue if you require your driving license for your job.
MOT FAQs
Here are some answers to the most commonly asked questions around MOTs.
When is my MOT due?
MOTs are an annual test, so you will need your next MOT exactly a year from your last. If you are unsure when your car is due its next MOT, you can use the GOV.uk MOT status tool to check.
How long does an MOT take?
An MOT test takes around an hour to complete. If your vehicle fails any part of the test, you may be able to have the repairs carried out immediately, depending on your MOT provider.
How much is an MOT?
The cost of an MOT will depend on where you have the test done, however they average around £40. There is a maximum fee for cars (up to 8 passenger seats) and goods vehicles (up to 3,000kg) of £54.85.
When does a new car need an MOT?
New cars do not require an MOT until they reach three years of age. You can choose to get your new car MOT tested if you wish, but there is no legal requirement until it is three years old.
Managing your fleet MOTs
When managing a fleet, staying on top of all MOTs can be a tricky task to manage. MyService.Expert is a handy tool that can help you to manage the servicing and testing needs of vehicles in your fleet.
Simplifying your company vehicle maintenance, MyService.Expert allows you to easily keep track of when your fleet vehicles need testing or servicing and offers access to garages nationwide so you can keep your vehicles on the road. With simplified invoicing and pay-as-you-go, MyService.Expert is a great tool for maintaining your fleet and keeping costs down.
If you'd like to learn more about this service, or would like to make an enquiry, head over to the MyService.Expert page. You can also get in touch with out team to discuss this service and others, as well as receive a quote.
back