Improved resilience a boon for Queensferry Crossing users
Written by: Simon Pavey, Last updated:13th February 2023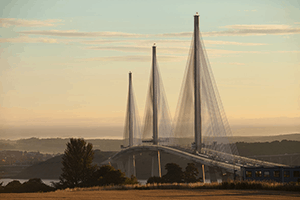 The opening of the Queensferry Crossing in summer 2017 may seem a distant memory to some, but the beneficial impact the bridge is now having should be fresh in the mind of users to this day.
On a total of 34 occasions since its opening, the crossing has remained open to travellers when its predecessor would have been forced to close.
Extra resilience is benefiting drivers
Strong winds are commonplace in the Forth area and high-sided vehicles can be highly susceptible to gusts. As a result, additional wind barriers were built into the new crossing to help tackle this weakness.
Cabinet secretary for transport, connectivity and infrastructure Michael Matheson commented: "The primary benefit to road users is undoubtedly the increased resilience of the Queensferry Crossing.
"On over 30 occasions in the past two years, when previously hauliers, businesses and the delivery chain would have been disrupted using the Forth Road Bridge, the crossing has stayed open."
Overall, analysis by Transport Scotland shows the additional resilience of the crossing has helped hauliers and local businesses to save millions of pounds in fuel costs, diversions and missed appointments.
What's more, journey times in the area have also been reduced following the crossing's opening, saving typical motorists five minutes per journey at peak times.
Ellie Baker, brand manager at FCS Scotland, adds: "The opening of the Queensferry Crossing has been a resounding success all around. The foresight of the engineers and planners continues to help businesses and the local economy to benefit from fewer closures that previously would have come with considerable cost."
back