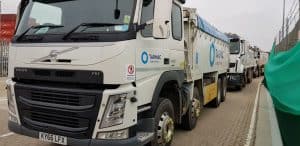 Heathrow Haulage Ltd was established in 2010 by James O'Mahoney. They are a sub-contractor that transports asphalt and aggregate materials for Tarmac Industries. Since joining FORS Heathrow Haulage Ltd has seen major improvements in their company's vehicle fuel usage and CO2 output. Director James O'Mahoney explains how FORS has been beneficial to their company.
We discovered FORS through Tarmac Industries after being informed of the benefits FORS has made for other sub-contractors similar to us that also work for Tarmac. After hearing one of the main benefits from joining FORS is the noticeable decrease in fuel usage, we were convinced that joining FORS will help our haulage business use the best practise and help us save on fuel.
We managed to achieve our bronze accreditation first time round which encouraged us to then aim for a silver accreditation. Seeing the improvements made within our business from aiming for these accreditations, encouraged us to then continue utilising the FORS tools and practices.
After becoming FORS accredited we really took advantage of the toolkits available on the FORS website. Using the range of toolkits under the safety section has helped keep our accident number remain at zero. Furthermore, we also made use of the Performance Management toolkit which helped us keep track of the progress we made with our KMPL.
'Our vehicle is now using up less fuel since using the FORS toolkits.' – James O'Mahoney
Moreover, we only have two drivers at Heathrow Haulage Ltd and since joining FORS they have become a lot more knowledgeable and confident when driving their HGV vehicle. Having the e-Learning resources, such as the Cycle Safety module, available to our drivers from home has encouraged them to regularly complete these modules. Doing this helps keep their road safety knowledge up-to-date.
'Having our driver's complete modules such as Cycle Safety has helped our drivers become more aware of vulnerable road users.' – James O'Mahoney
Our main reason for wanting to progress from a silver accreditation to a gold accreditation is due to seeing significant improvements from implementing practices to achieve a silver accreditation. Furthermore, achieving a gold accreditation would ensure to our clients that we are performing our work using the best practices.
In the ­­­­­last two quarters, we have increased our KMPL by 4.7% thanks to FORS.
| | | | |
| --- | --- | --- | --- |
| | KMPL | Incidents per 100,000 Kms | Number of PCNs |
| July – Sept 17 | 1.72 | 0 | 0 |
| Oct – Dec 17 | 1.79 | 0 | 0 |
| Percentage improvement | 4.7% | 0% | 0% |
At Heathrow Haulage Ltd, we ensure that our employees' health is at a standard where they are fit to work as a HGV driver by requesting them to fill out a health questionnaire. If there are any possible health issues that may affect their driving, we will refer them to a GP for further consultation. We also require our drivers to complete an eye test every six months.
At Heathrow Haulage Ltd we only have one vehicle so we do not need to recruit often. However, if we plan to expand our fleet or require a new driver, we offer a two-week buddy plan in our recruitment advertisement. The two-week buddy plan we offer allows new drivers with no previous tipper driver experience to join the industry. Our plan consists of a new recruit shadowing an experienced tipper driver in their daily duties. Using this method helps ease the new driver into their new environment safely and encourages new drivers to join the industry.
The type of vehicle used at Heathrow Haulage Ltd is known to produce a lot of noise pollution. However, since joining FORS our vehicles noise pollution statistics have lowered significantly. The reason for this has been because we have made use of the FORS anti-idling toolkit and Quiet Equipment guide. The anti-idling toolkit informed our drivers of when to turn off their engine when stationary for long periods of time. This method also helped our drivers save fuel.
The materials being transported by Heathrow Haulage Ltd must be kept at a high temperature. Due to this requirement, our vehicles must have an insulated body and PTO system. As of yet, there are no vehicles other than a diesel, Euro 6 engine vehicle, that is suited for our mode of work and is also more environmentally friendly. We plan to stay up to date with any changes made in the tipper vehicle industry to see if we can implement new equipment or vehicles into our company to become more environmentally friendly.
At Heathrow Haulage Ltd, we plan to continue working on our employee's professional development, by keeping up to date with any new FORS driving modules and courses. We also plan to continue utilising the FORS toolkits such as the Fuel Tracker and Performance Management toolkits. Using these toolkits will help keep our fuel usage at a minimum and our emission output at a low level.
To conclude, having Heathrow Haulage Ltd become gold accredited would ensure our employees and clients that our company is performing using the best practices. Furthermore, being gold accredited would assure that our company's road safety is of a high standard and that we are working to reduce our carbon footprint.
Please note: All published FORS Gold case studies have been submitted by the accredited company named above and transcribed verbatim.
If you are a FORS company, or if you are working towards accreditation, your business is entitled to some exclusive fuel cost saving offers from Fuel Card Services. Click here for more information.

Posted on 21st March 2018
< Back to Latest News