Govt to host 'meet the experts' sessions at LCV2019
Written by: Fuel Card Services, Last updated:14th February 2022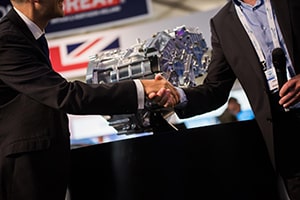 This year's Low Carbon Vehicle Show (LCV2019) will play host to a number of sessions where visitors can meet with representatives from six government departments.
The aim is to help businesses in the automotive sector to better understand the government's ongoing Road to Zero strategy.
Ambitious plans that need further support
Hosted on the UK Government Pavilion and managed by the Advanced Propulsion Centre (APC), the sessions will cover everything from how to get involved in funding options that are available.
It aims to ensure automotive organisations have all the necessary information to be able to successfully commercialise new innovations in the low-carbon sector and bring them to market.
Chris Harris, business development lead at the APC, commented: "By pre-booking an appointment, technology developers will have a guaranteed opportunity to sit down and discuss their specific challenge with one of our experienced experts.
"By providing this unique level of access and dedicated attention, we'll continue to help strengthen the UK's leading position in clean transport and mobility solutions."
LCV2019 will be taking place at Millbrook Proving Ground in Bedford from September 4th to 5th. Sessions, where attendees can 'meet the experts', will be available across both days.
Jenny Smith, general manager for Tele-Gence, commented: "It's great to see businesses being invited to find out more about Road to Zero, as this represents an ambitious target to deliver a cleaner, greener future for the whole of the country."
Your business can benefit from affordable telematics with no hidden start-up fees or long-term commitments. Find out how at www.tele-gence.com
back