First MOT 'winners and losers' revealed
Written by: Simon Pavey, Last updated:14th February 2023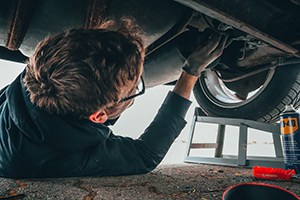 New cars are required to have an MOT certificate on their third anniversary of hitting the road, so if you got yourself a brand new vehicle in 2017, it's very first MOT will be coming up some time this year.
In preparation for this event, you might be interested to know the most common reason for cars to fail their first MOT, and which models are most likely to have issues in the test.
Winners and losers
According to research by car owner companion website and app KnowYourCar, nearly a fifth (19 per cent) of Isuzu D-Max, Dacia Sandero and Ford Fiesta models that were registered in 2016 failed their first MOTs last year.
The same issue caused the highest number of failures for all three of these models: 'headlamp aim out of alignment'.
This was also the most likely reason for 2016 Honda Jazz models to get the thumbs down in their first MOT test. However, the Jazz performed better than the D-Max, Sandero and Fiesta on MOT performance overall, with a 96 per cent pass rate.
The MINI One and Skoda Octavia also fared well last year, with 94 per cent of 2016-registered versions of these cars sailing through their first MOT inspection.
Dan Owen of KnowYourCar said it was "worrying" to see that headlamp alignment is such a big issue for relatively new cars. It was a common reason for failure among the ten worst MOT performers last year, including the Vauxhall Corsa and the Volkswagen Golf.
"The fact that headlamps are such a problem for so many different models is startling," Mr Owen added. "Misalignment can be caused by a number of issues, including minor collisions, faulty headlight motors and even assembly issues at the car factory. These MOT results certainly explain why so many cars' headlights tend to dazzle at night."
Regular maintenance and servicing can help you keep an eye on these sorts of issues and other common reasons for MOT failure.
With MyService.Expert from Fuel Card Services, you can get your vehicle checked out at more than 4,500 garages nationwide.
back