County Glass enjoys transparent fuel costs
Written by: Fuel Card Services, Last updated:11th August 2020
The striking County Glass livery is a familiar sight in southern England, as the company fleet covers the area within 120 miles of its Winchester home. More than a dozen 7.5 tonne and 3.5 tonne vehicles are constantly on the road, carrying everything from standard double glazed units to one-off custom glazing. The vehicles are undeniably smart, but it is less obvious that they are also run highly cost-efficiently, with the help of Fuel Card Services.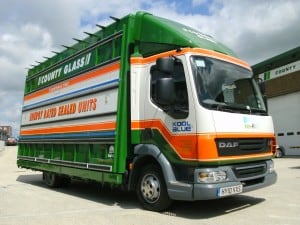 County Glass has an enviable reputation earned through 60 years of delivering high-quality glazing and is known for its attention to detail. That ethos pervades every area of the company's operation, including fleet management. Sales director Andy Hamilton explains why: "We put a lot of effort into producing exactly what customers want, so getting the end products delivered on time is essential. With our fleet representing a major investment, we have to be able to rely on it. It also has to be run as cost-effectively as possible."
One way of optimising any fleet's performance is to insist upon using only top-quality fuels. County Glass's vehicles all use Shell. "We know that sticking to Shell FuelSave means that we are running on the best possible fuel," says Andy, "with the added bonus of convenience, as the nearest filling station to our headquarters sells Shell. Quality and convenience, though, are just the start of the benefits."
The major reason for County Glass preferring to refuel with Shell is that each of its drivers carries a Shell fuel card, provided by Fuel Card Services, part of The Fuel Card Group. This means that the company's refuelling costs are not just completely transparent, but also significantly lower than previously. "We were using a fuel card from another supplier," says Andy Hamilton, "until we realised that it was costing us, rather than saving us money. It was not obvious from the invoicing, but we realised that we were consistently paying more than pump prices. That had to stop."
Now, County Glass is advised each Friday of a fixed diesel price for the coming week. The price applies nationwide, across the whole network of more than 1,100 Shell filling stations. County Glass pays, typically, up to 4p per litre less than national average prices. "Our drivers tend to refuel locally at the start or end of the day," Andy says, "but, if necessary, they can pull in and fill up anywhere they see the Shell sign. There are so many Shell stations that there is never any question of anyone running out of fuel or having to deviate from their route."
Using the Shell fuel card – as with the BP, Esso, Texaco and other products from Fuel Card Services – is a 'refuel and forget' operation, being virtually admin-free. A single VAT-compliant invoice is emailed each week, covering all refuelling by the whole fleet. Payment is automatic, by direct debit and the interval being refuelling and payment means that County Glass enjoys anything up to two weeks of interest-free credit. If Andy Hamilton ever has a query about County Glass's refuelling, he calls Richard Wood, their Fuel Card Services dedicated account manager. He also has 24/7 secure Internet access to the account, including transactions that are yet to be invoiced. As for security, the fuel cards can only be used for fuel, not for forecourt shopping, and are useless to anyone else if lost or stolen.
Andy Hamilton says, "Switching to Fuel Card Services paid off right from the start. County Glass vehicles still run on the same high-quality Shell fuel, from the same places, but at a significantly lower cost and with no administration overhead. We would recommend anyone to talk to Fuel Card Services."
back