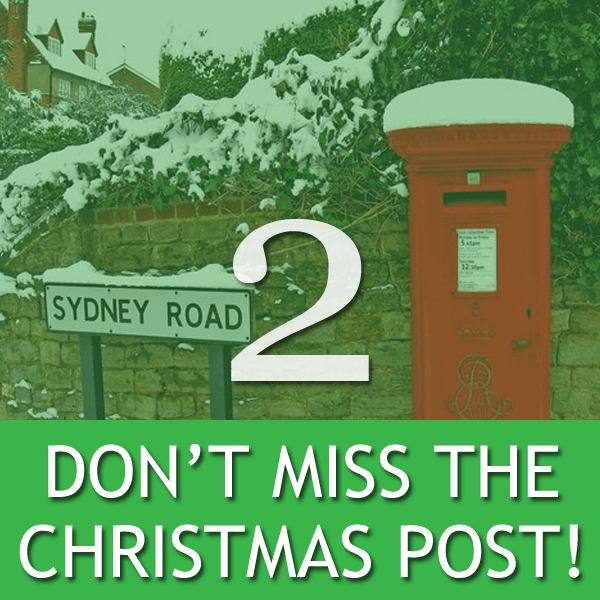 Make sure your parcel is delivered on time this Christmas with our handy Christmas Post 2015 guide…
When is the last UK posting day?
To make sure your parcels are delivered on time, get your presents to the Post Office by:
December 19 for second class mail
December 21 for first class mail
December 23 for special delivery
When will Royal Mail not deliver post?
Christmas Eve will have a normal delivery and collection service.
Between Christmas Day and Monday 28 December there will be no deliveries or collections.
Service will resume as normal from Tuesday 29 December to New Year's Eve.
There will be no deliveries of collections on New Year's Day (this extends to 2 January also in Scotland).
When are the last dates for sending post abroad?
The dates for all international economy (formerly known as Surface Mail) destinations other than Western Europe have already passed.
If you want to reach the rest of the world using the standard Airmail service the recommended posting dates are:
December 4 for Africa and the Middle East
December 7 for Asia, Cyprus, Far East, Japan and Eastern Europe (ex Poland, Czech Republic and Slovakia)
December 8 for the Caribbean and Central & South America
December 10 for Greece, Australia and New Zealand
December 14 for the Czech Republic, Germany, Italy and Poland
December 15 for Canada, Finland, Sweden and the USA
December 16 for Austria, Iceland, Ireland, Portugal and Spain
December 17 for France
December 18 for Belgium, Denmark, Luxembourg, Netherlands, Norway, Slovakia and Switzerland
When is the last day to send a letter to Father Christmas?
Royal Mail will send a letter from Santa Claus for free. If you are hoping for a reply from Father Christmas, post him a letter by 6 December. This is the address you need:
Santa / Father Christmas
Santa's Grotto
Reindeerland
XM4 5HQ
Make sure you include a full name and address so Father Christmas can write back.
For more FCS Advent Calendar treats, click here.
Posted on 2nd December 2015
< Back to Latest News