Cheese Cellar saves with discount fuel cards
Written by: Fuel Card Services, Last updated:11th August 2020
Fuel costs were an inevitable concern for Cheese Cellar, twenty years ago, when it was a small company running a single van. The wholesaler/retailer of cheese and speciality foods is now a £70 million business, employing almost 300 people, with customers throughout the country. With a distribution fleet operating from depots in London, Worcester and Manchester, it still needs to keep close control of fuel costs.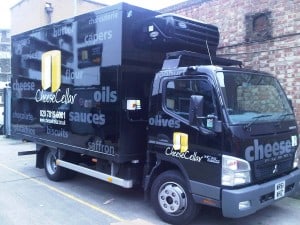 Andy Herbert is the Cheese Cellar transport manager, responsible for a mixed fleet of around 70 vehicles. He said, "For a fleet using thousands of litres every week, diesel and petrol prices are critical. We need to keep the costs as low as possible, while still using top quality fuels, and without drivers needing to hunt around for somewhere to refuel."
Cheese Cellar found the solution with Texaco Fastfuel fuel cards, from Fuel Card Services. "Fixed weekly pricing means that a driver can pull in at any Texaco site nationwide to refuel," said Andy Herbert, "and we pay, typically, up to 4p per litre less than it shows on the pump. On a fleet of our size, that sort of saving soon adds up and the lack of paperwork is a major bonus. A single weekly invoice covers all the refuelling, diesel and petrol, for every vehicle. With that being paid automatically by direct debit, the interval between refuelling and payment means up to a fortnight of interest-free credit."
The Cheese Cellar's Texaco Fastfuel fuel card is also accepted on Tesco, Morrisons and The Co-operative supermarket forecourts, as well as at Moto service stations. This gives their drivers fast, simple refuelling at more than 2,000 locations throughout the country.
Detailed, customised reporting is readily available for download into standard office packages and Cheese Cellar has secure 24/7 access to complete account information fleetwide. That includes the latest refuelling transactions, yet to be invoiced.
Unlike other suppliers, Fuel Card Services does not expect customers to queue for random, anonymous call centre operators. Andy Herbert particularly values the personal service, having dealt with the same dedicated account manager for several years. "If we do have a request or query, I just call Donna," he said, "who has provided constant excellent support, helping me to reduce my company's transport costs. She is an expert in her field."
Cheese Cellar's success owes much to its commitment to providing quality products backed by excellent customer service – and that, as Andy Herbert is happy to confirm, is exactly the treatment that Cheese Cellar enjoys from Fuel Card Services.
back