Can I claim for vehicle damage on poor quality roads?
Written by: Simon Pavey, Last updated:17th September 2021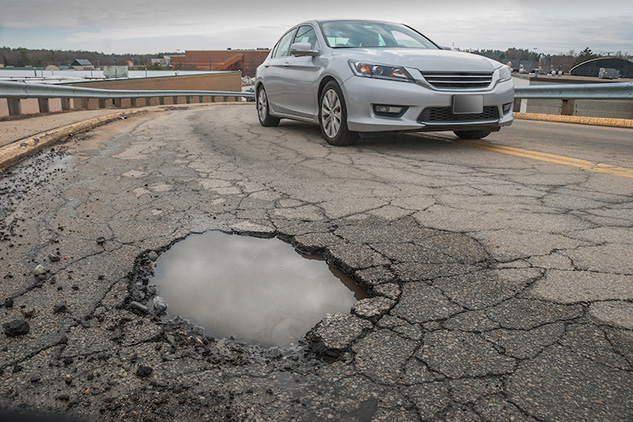 Any form of vehicle damage can be awkward to deal with, potentially costly, and involves having a little debate with yourself over whether it's worth claiming on your insurance or floating the cost out of your own accounts.
This is true both for individuals, and for businesses who may experience this challenge frequently when operating a commercial fleet. One important question to ask yourself, though, is 'who is responsible for causing damage to my vehicle?'
Naturally, if either yourself, one of your drivers, or another road user is at fault, it's easy to point the finger at who should be paying up. If, however, damage has been caused by the road itself what steps can you take? That's exactly what we're going to dive into in this article.
What is vehicle damage?
If you're driving along and run into a pothole, there are a number of ways in which your vehicle could sustain damage. From puncturing your tyre to bumping the chassis of your car and causing serious damage to vital components, you could find yourself racking up quite an expensive bill.
After identifying the cause of this damage, you should ask whether it's a fault of the road itself or another driver. If the organisation responsible for managing the road is at fault, you may have scope to claim. However, if your car is hit by debris from another vehicle, for example, then pursuing a claim from the perpetrator's insurance is likely the best option.
What's key is that you can evidence a clear link between the cause of damage in the road, and the damage actually done to your vehicle. Meaning it's important to take photos if you've sustained damage from a pothole, although do take safety into consideration and be mindful of other road users when exiting your vehicle.
Similarly, if you're operating a commercial fleet, ensure that your drivers exercise the same level of caution – and that they realise you cannot legally get out of your vehicle for this purpose on a motorway. With that in mind, how do you go about making a claim?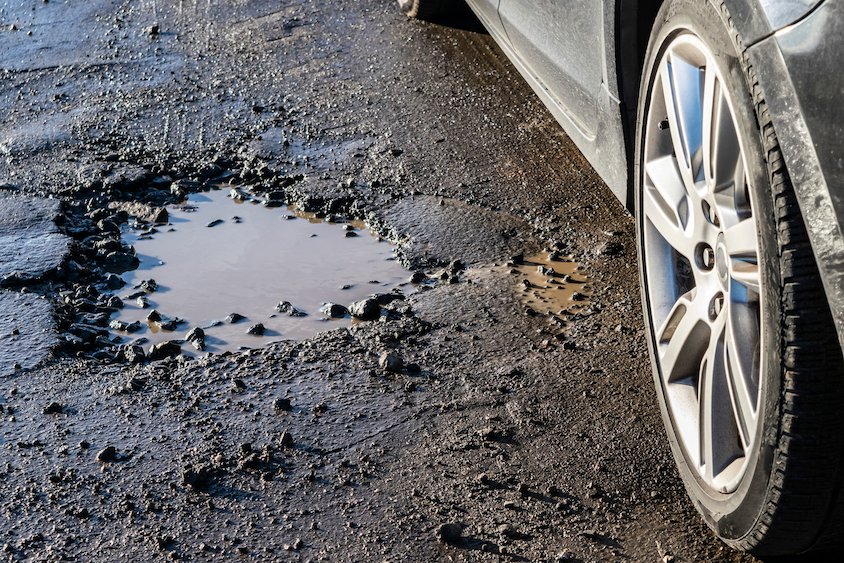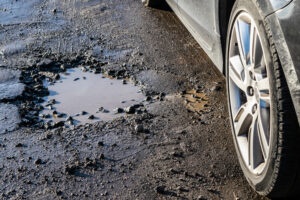 How to claim for pothole damage
Follow our step-by-step process for making a pothole-damage claim.
1. Identify who is responsible
The first step in making a claim is understanding who exactly you should be looking to contact; i.e., identifying which organisation is responsible for maintaining the road in question. In England;
London's red routes are managed by Transport for London.
The majority of motorways and A-roads are managed by Highways England.
Any other English roads, as well as some A-roads, are managed by local council authorities.
You can check whether Highways England manages a road via their website.
2. Report the pothole to the organisation
You can make a claim for any damage caused to your vehicle by a pothole. That said, it's also essential that you report a pothole to the organisation responsible for managing the specific road quickly – as they can be a genuine danger to human life if hit at high speeds.
If you're operating a commercial fleet and haven't done so already, then you may want to implement a process for reporting these in bulk. Naturally, if a pothole has been reported multiple times and not addressed, then this can only strengthen your claim for compensation.
When reporting a pothole, one useful tip is to drop an everyday item, such as your keys, into the pothole when you take a photograph. This can help the person receiving your claim understand the depth (and potential danger) of the hole.
The BBC estimate that councils in England and Wales fill in a pothole every 19 seconds, however 16% of roads in England are considered to be in a 'poor' state, so helping to report these is an important action to take.
3. Make your claim
Next, visit the website of the organisation responsible and follow their claims process. Generally, the organisation will want to understand:
What damage has been caused to your vehicle.
A rationale for the claim; how is this organisation responsible?
Details around the location of the incident, such as the road name and the exact date and time the damage was caused.
After submitting your claim, you'll find it either to be accepted or rejected. In the case of the latter- it's possible to actually appeal this ruling if you have a strong reason to believe that you're owed compensation.
You can read more about the complete process for making a claim on the Government's website.
So, can you claim for damaged tyres due to council roads?
Essentially, yes. Whether you're representing a business or you're driving for residential purposes, if a council road causes damage to your vehicle, then you can indeed make a claim for compensation.
We hope this article has helped answer your questions, and that it points you in the right direction in terms of making your claim.
How can Fuel Card Services help?
At Fuel Card Services, we know better than most how vehicle damage can hinder a commercial fleet operation. We've taken matters into our own hands, and developed a range of professional fleet services that are designed to make it easier for you, as an operator, to manage and overcome these challenges.
Our services include:
MyService.Expert – simplifying your vehicle maintenance and servicing. With our service, you can select from a range of garages near you and book in to gain access to our pre-negotiated servicing and maintenance rates.
MyDriveSafe.Expert – Our app which enables the quick and hassle-free reporting of vehicle defects, and allowing your drivers to run through a series of easy-to-follow checks.
If you think your business could benefit from our solutions, then feel welcome to contact our experts for advice on how we could work together – or check out how you could save money on fuel with our fantastic range of fuel cards.
back