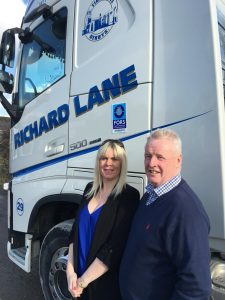 Local haulage company, RLT Ltd. of Tideswell near Buxton, has improved its on-road safety performance and reduced vehicle emissions since gaining accreditation with FORS, the Fleet Operator Recognition Scheme.
FORS is a voluntary accreditation scheme for any company operating commercial vehicles anywhere in the UK or overseas, promoting a singular ambition to drive-up standards in the road transport industry with respect to safety, efficiency and environmental protection.
Since joining the scheme in 2014, RLT has progressed recently from FORS Bronze to FORS Silver accreditation – also becoming the 900th UK commercial vehicle company to attain FORS Silver. Utilising FORS training courses and eLearning modules, RLT drivers continue to reach increasingly high levels of professionalism, boosting the company's safety performance and improving fleet efficiency.
"Most importantly," said Managing Director, Barrie Handley, "FORS has brought us a better awareness of safety. Our vehicles are now fitted with cameras, and our tracking technology has provided us with evidence of improved driving characteristics from all our drivers. Our whole fleet is now running to an excellent standard, and," he said, "we have the data to back it up.

"We have also improved our fleet fuel economy by 0.5mpg," he added, "that may not seem a high figure, but, across the whole fleet of 14 vehicles, it represents a substantial saving in fuel costs and vehicle emissions. Through its excellent training courses, FORS has helped us eliminate the peaks and troughs in our fuel returns and we're now seeing consistently high productivity from all our vehicles."
RLT's 900th FORS Silver milestone comes as FORS Gold membership tops 250, and FORS Bronze members total over 3,500 – meaning overall FORS membership has grown to over 4,700 operators throughout the UK, representing over 120,000 commercial vehicles.
FORS Silver membership means that RLT is already employing best practice principles in accordance with the requirements of the FORS Standard – and a level of operation which goes beyond basic legal compliance. As RLT continues its journey towards FORS Gold status – and, with it, exemplary levels of operational best practice – the company has said that FORS membership has provided a clear road-map for future development, and, with it, more business opportunities.
"We wanted to join FORS," continued Handley, "because we wanted to self-improve. We have seen first-hand the benefits of FORS membership – particularly through driver and manager training – and we can see the even greater potential with FORS Gold accreditation. With FORS guidance and training," he said, "I'm looking forward to future-proofing our business."
For more information, or for commercial vehicle operators wishing to join FORS, please click https://www.fors-online.org.uk/cms/
Louise Handley and Barrie Handley, RLT Ltd.
If you are a FORS company, or if you are working towards accreditation, your business is entitled to some exclusive fuel cost saving offers from Fuel Card Services. Click here for more information.
Posted on 23rd April 2019
< Back to Latest News