BBC research raises questions over smart motorway safety
Written by: Simon Pavey, Last updated:14th February 2022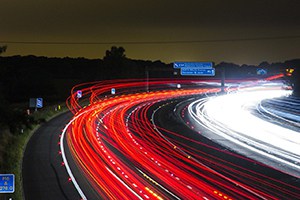 New research by the BBC has brought further attention to the issue of safety on smart motorways – sections of road that use traffic management methods to increase capacity and reduce congestion.
These methods include using the hard shoulder as a running lane and implementing variable speed limits to improve traffic control.
In October 2019, Highways England announced that an additional 300 miles of smart motorway without hard shoulders will be rolled out across England by 2025.
This trend has not been without controversy, with critics arguing that smart motorways can pose a threat to safety, partly because the lack of a hard shoulder means broken down cars can be trapped in moving traffic.
The BBC's findings shed further light on the safety considerations linked to smart motorways.
Deaths and near misses
A Freedom of Information request submitted to Highways England by the BBC's Panorama programme revealed that 38 people have been killed on smart motorways in the last five years.
On one section of the M25, outside London, there were 1,485 near misses in the five years since the stretch was converted into a smart motorway and had its hard shoulder removed in April 2014. This is a 20-fold increase from the five years before the conversion, when there were just 72 near misses.
Other findings from the Panorama research showed that a warning sign on the same stretch of the M25 had been out of action for nearly a year.
The government is currently conducting a review into smart motorways, the results of which are due to be announced shortly.
Transport minister Grant Shapps admitted that smart motorways are too confusing for drivers and told Panorama that he wants to fix the system.
"We absolutely have to have these as safe or safer than regular motorways or we shouldn't have them at all," he added.
Improving safety
There are a number of changes that could come into effect in the near future and potentially improve the safety of smart motorways.
The expansion of radar technology – which is currently only in use on two sections of the M25 – could help to ensure that stranded vehicles are spotted as soon as drivers break down.
Furthermore, the government is expected to scrap 'dynamic' hard shoulders, which are sometimes used as a hard shoulder and sometimes as a live lane for traffic.
For fleet managers, improving driver safety and minimising the risk of accidents should always be a priority. One of the ways to boost safety standards is through the deployment of telematics, which can offer benefits such as:
Positively influencing driving habits because drivers know they are being monitored
Data-based insights into which drivers need additional safety training
Ability to deliver real-time feedback to drivers to prevent unsafe practices
Jenny Smith, general manager for Tele-Gence, commented: "The safety of smart motorways is clearly causing some concern at the moment, and we'll be following this subject closely to see what improvements the government makes in the near future.
"As far as fleet management is concerned, telematics has the potential to help businesses reach the highest safety standards and keep risk to their drivers and other road users to a minimum."
Your business can benefit from affordable telematics with no hidden start-up fees or long-term commitments. Find out how at www.tele-gence.com
back